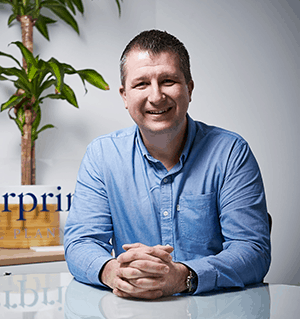 Ben Beslic
PRINCIPAL PARTNER
My day-to-day role is still very much centred around helping clients achieve their dreams whilst keeping them on the right track.
At work
Having spent 16 years in financial services, my day-to-day role is still very much centred around helping clients achieve their dreams whilst keeping them on the right track throughout their financial journey.
CeMap
Certificate in Mortgage Advice and Practice. The industry benchmark qualification for mortgage advisers, recognised as a mark of excellence and professionalism. Advisers attain the required understanding of mortgage policy and practice and how to effectively apply this when advising a customer.
CeRER
Certificate in Regulated Equity Release. Qualifies advisers to advise for one of the fastest-growing industries. This qualification develops an extensive understanding of the environment, products available and the circumstances where equity release is an appropriate solution for the customer.
Excellent service. This isn't just a mortgage broker or a financial and wealth planner, this is a full service financial advisory service. The staff are friendly, efficient and work at pace. In today's world of ticking boxes and scripted replies, it's refreshing to get a personal touch.
Client since 14/03/2019
Fantastic service, very professional, informative and probably the best service I have received in this field. Good people, ethical and would certainly recommend them as a business to anyone!
Client since 01/05/2019
From start to finish the guys at Fingerprint Financial were incredible! They ensured my mortgage went through smoothly and continued with their professional support right up until I was settled in my new home. Responsive customer service from Victoria, who I highly recommend to all my friends and family and will continue to use in the future myself.
Client since
I have been using Fingerprint Financial Planning for four years now. The team are extremely helpful and friendly and I would highly recommend them.
Client since 09/11/2016
I am a landlord with four properties as well as my own home and have used Fingerprint Financial Planning for all my mortgage needs for over 10 years. They are knowledgeable, efficient and incredibly supportive. I would certainly recommend them.
Client since 17/06/2009
Friendly and competent staff. Fingerprint Financial Planning treats you as a valuable customer. A pleasure to work with this company. Always available on the other side of the line. Regular feedback. I can highly recommend Fingerprint.
Client since 02/05/2018
Great team and very helpful. Made the process of buying our house a lot easier.
Client since 17/04/2018
An absolutely outstanding company. I got introduced by a friend years ago now and I have been using them ever since. The team in the office are all very polite and helpful, nothing is too much trouble. If you've not used Fingerprint Financial Planning yet, it's time you did!
Client since 15/07/2015
Highly recommended, friendly and very personal service. Thank you!
Client since 02/01/2018
I would most definitely recommend this company to anyone wanting financial advice or mortgages, as the deals they can get are much better than you could find independently... Thank you so much again for all of your help and advice.
Client since 28/03/2019
Absolutely fantastic; very, very high standard of customer service; exceptional knowledge; very friendly and easy to talk to an adviser. I would recommend them to anyone; Fingerprint, you have gained our trust and loyalty. Thank you.
Client since 10/01/2019
The one thing I'm most passionate about is:
Animal welfare
On an ideal weekend, you can find me:
In a small Suffolk seaside town having coffee with friends
My favourite holiday destination is:
Dubrovnik
My favourite song to play in the car is:
'Africa' by Toto
The first album I bought was:
Michael Jackson – 'Bad'
If I could be any fictional character, I would be:
The Count of Monte Cristo
If I could turn any activity into an Olympic sport, I would win a medal in:
Rally driving through the Italian Alps
When the dessert menu arrives, I'm looking for:
Dessert wine
The three qualities that draw me to new people are:
Integrity, passion about their cause and being humble
My pet peeve is:
Lack of attention to detail
The best gift I've ever received is:
Yugo 45
The three people at my dream dinner party would be:
Jay Leno, Mikhail Gorbachev, Michel Roux (Jr.)
The three small things that make my day better are:
Food, great company, sunshine
The proudest moment of my career so far is:
Starting Fingerprint Financial Planning
The three things I love most about my job are:
People, not knowing what to expect each day, having control over my destiny
The types of people I most enjoy working with are:
The kind of people who inspire me to better each day
At home
I'm a serious petrolhead with passion for travel, food, animal welfare and a true friend.
Contact us
Please complete the form if you have an enquiry or would like to arrange a no charge, no obligation meeting.